Students are given the opportunity to choose from the many forms of riding such as Western, Huntseat, and Saddleseat. The price for lessons is $30 for a group of no more than 3 and $35 for private lessons. Lessons last an hour and are generally divided into three sections.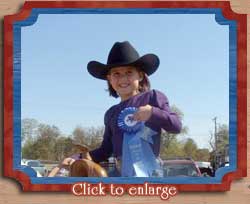 Click HERE for release form

During the first part of the lesson, the student is taught grooming techniques and how to tack up the horse.

During this process, tack parts are explained as to their name, use, and relevance. Also, the various parts of the horse's body are identified by name and function.